UNAIR NEWS – Dr. Noer Saudah, S.Kep., Ns., M.Kes, alumni of Universitas Airlangga Postgraduate Program (2015-2018) stated that obesity can reduce the body's immune system. It will affect immunity to fight infections including Covid-19 and increase susceptibility to the virus.
According to Dr. Saudah, in a pandemic era like this, it is necessary to optimize metabolic conditions to prevent deaths due to Covid-19, especially for someone with obesity.
Excessive weight causes a buildup of fat cells in the body. The accumulated fat cells increase inflammation, making it easier for disease to enter. Then, people with metabolic syndrome such as obesity, will develop insulin resistance, impaired glucose tolerance, and end up as diabetes.
"From a metabolic point of view, obesity can lead to insulin resistance and decreased pancreatic beta cell function. Both of these will limit the metabolic response when the body is experiencing immunity challenges. Covid-19 can directly interfere with pancreatic beta cell function through its interaction with angiotensin-converting enzyme 2 (ACE2). In addition, excessive adipose tissue provides a reservoir of ACE2 receptors which is the entry for the SARS-CoV-2 virus, " she explained at 12th International Nursing Conference, FKp UNAIR, Thursday, April 8, 2021.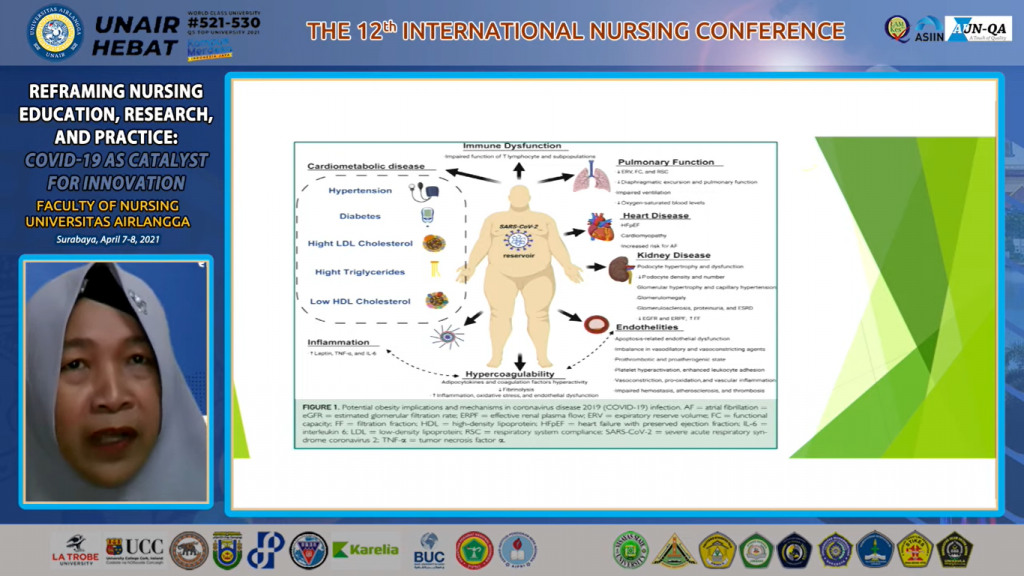 From an immune response point of view, there is a clear association between obesity and Covid-19, as adipose tissue in obese patients is pro-inflammatory. Obesity causes excess nutrients for the body, causing adipocytes to release more pro-inflammatory cytokines which results in chronic inflammation in obese individuals.
"There is a clear correlation between obesity and basal inflammatory status characterized by higher levels of circulating interleukin-6 and C-reactive protein. Adipose tissue in obese patients is pro-inflammatory. In addition, there was also a dysregulation of tissue leukocyte expression and inflammatory macrophages (including innate lymphoid) which replaced the tissue regulatory (M2) phenotypic cells," explained Saudah who is also a lecturer at STIKES Bina Sehat PPNI Mojokerto.
Furthermore, she emphasized that obesity is a problem in the metabolic system, so that metabolic problems must be solved by metabolic changes. To optimize metabolic conditions, it requires weight loss efforts through regular physical activity with moderate duration that will increase insulin sensitivity and reduce insulin levels.
"We must carry out public health promotion on weight loss in obese people as a precautionary measure to reduce deaths from Covid-19. Regular physical activity with moderate intensity and duration can increase insulin sensitivity and decrease circulating insulin levels. This exercise is done to optimize metabolic conditions, " she concluded.
Unair as the best university in Indonesia encourages the entire academic community to develop excellent research and global competitiveness.
Author: Adelya Salsabila Putri
Editor: Khefti Al Mawalia
Source: http://news.unair.ac.id/en/2021/04/09/obesity-can-reduce-immunity-and-increase-susceptibility-to-covid-19-infection/