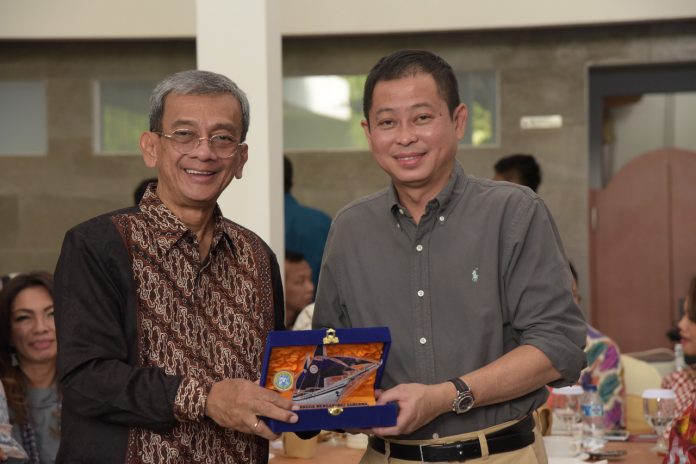 ESDM Minister Ignatius Jonan who is an alumni of UNAIR receives a token of appreciation from IKA UA Chairman Hariyanto Basuni. (Photo by courtesy)
UNAIR NEWS – There were 75 alumni of Universitas Airlangga (UNAIR) attended UNAIR alumni gathering. The event was held at the house of Minister of Energy and Mineral Resources (ESDM) Ignasius Jonan, Jalan Denpasar Raya Block C3 Number 16, Kuningan, South Jakarta on Saturday, May 12.
It was started by playing a video of Universitas Airlangga Floating Hospital as a form of pride of alumni UNAIR. It was held in a warm and relaxed manner. The event was attended by UNAIR Rector Prof. Dr. H. Mohammad Nasih, MT., SE., Ak, CMA., and Vice Rector IV Junaidi Khotib, S.Si., M.Kes., Ph.D., Apt. The Vice Dean 1 and 2 Faculty of Economics and Business, Head of Planning and Development Board (BPP), Deputy of Social Fund Management Center (Puspas), Executive Board of Alumni Association of Universitas Airlangga (PP IKA UA), and UNAIR alumni.
On the occasion, in front of the audience, Prof. Nasih conveyed that UNAIR alumni are expected to be assets for this nation and more specifically for UNAIR in achieving world class university (WCU).
"UNAIR is currently building the infrastructures. For alumni who want to donate some of their wealth, they can be the icon in the place of donation, "he said.
Furthermore, UNAIR is improving facilities and infrastructures of Faculty of Pharmacy building to support the achievement of Top 500 WCU. In addition, UNAIR is also building a student dormitory building on campus C from the grant of provincial government (pemprov). The plan, added Prof. Nasih, in the near future UNAIR will build a library building on campus B which gets support from one of UNAIR alumni, Dato 'Sri Prof Dr (HC) Tahir, MBA.
"Hopefully more alumni will contribute to the alma mater as university assets," he added.
Meanwhile, Ignasius Jonan who is also an alumni of UNAIR on the occasion said that actually UNAIR able to be given target not only 500 WCU, but to be in the top 100 WCU. It can happen if all parties are hand in hand with alumni. Jonan added, alumni are expected to be willing to help each other to support UNAIR reaching the target to WCU.
"UNAIR has alumni spread across various sectors. A lot of them have strategic positions. It can be used to accelerate UNAIR to achieve world class university, "he added.
Then, as the chairman of IKA UA, Haryanto Basyoeni also expressed his gratitude to all alumni who were pleased to attend and to Ignatius Jonan who has hosted the gathering. (*)
Source : http://news.unair.ac.id/en/2018/05/14/alumni-commit-improve-role-minister-energy-mineral-resources-house/